Britain's premiere genderqueer balladeer dials up the diva for their latest melodic electro-R&B jam. And it's about time.
Despite shooting to stardom in 2013 with one of the best dance tunes of the decade – the Disclosure collaboration 'Latch' – Sam Smith has never been a terribly interesting artist.
Their repertoire of weepy ballads and breakbeat-inflected toe-tappers has seemingly been developed with the specific intention of bringing a sophisticated ambience to department stores the world over, leaving little room for the openly queer singer's own burgeoning flamboyance.
Then came that performance at the Brits this February.
Joining Calvin Harris for his much-hyped medley of hits, Sam let their Pride flag fly in front of four million viewers – including yours truly. The person who showed up to belt out 'Promises' wasn't the coiffed, earnest tenor I was used to. Here was a femme, Lambrini-drunk popstar ready to pose hand on hip, flick their non-existent weave, and just generally let us have it. As a fellow 27-year-old queer person, I felt unexpectedly represented.
A month later, in a bold and laudable move, Sam came out as non-binary.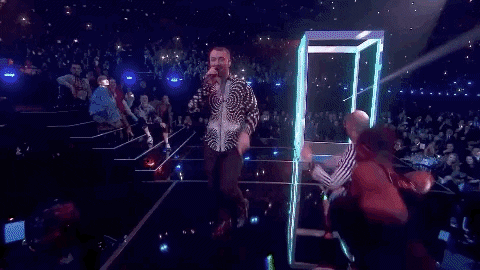 The real Sam Smith
On a musical level, new single 'How Do You Sleep?' doesn't channel the sultry house throb of 'Promises'. Instead Sam continues down the melodic electro-R&B route they explored on previous single 'Dancing With A Stranger', a duet with US singer Normani. But where that single's presentation was stately and somewhat heteronormative, their latest video doubles down on the unfiltered extraness first glimpsed upon that Brits stage.
The first thing we see is Sam slouched on a chair at what appears to be an uninspired (read: heterosexual) video shoot. They appear depressed and despondent, and yeah, I would too if I were dressed like Homer Simpson. But not to worry! Help arrives in the form of a hunky studio assistant! Sammy the Jammy Bastard is then hauled across the studio, wrapped in the guns of a god (did I mention this man is a zaddy?).
In the next setup, Sam is decked out in a normcore mesh shirt and determined to keep up with their tight troupe of voguers, and is clearly in their element. Could this sequence be a metaphor for how Sam had to drag himself out of their Mother's Day aisle comfort zone in order to be their authentic (read: fabulous) self? I'd bet money on it. I mean, if they weren't attracted to men before being swept up by that assistant…
The question is, does this particular song warrant such fripperies? Not really. Thematically, it's a strong and refreshingly compassionate reckoning with a deceitful, possibly adulterous lover. But these lyrical pearls are strung together on a standard algorithm-pop structure. The emotional bandwidth that was so hard-earned is somewhat undermined by an inevitable squawking beat drop.
Perhaps that's the canny sleight-of-hand Sam and their team have pulled off with this release. 'How Do You Sleep?' is safe enough musically to keep them afloat in the streaming game – but G.A.Y enough visually to ease the public into an enticing new era. If single #3 manages to sound like – and not just look like – a homosexual bop for the ages, one that gets played everywhere from supermarkets to circuit parties, then Sam can sleep easy knowing they are well on their way to becoming a future queer icon.